In one of my articles, I stated that before you start a business, first look for a market, what people want to buy and build a product or service around it. You can read it here. If you have already look for a market and what people want to buy, Congrats.
What Next?
One of the most intriguing statements I have ever come across is that "People don't care about your business, rather they care about their problems". So be the solution they are looking for. Your business should be solving their problems, not adding to them.
How can you be the solution if they do not know that you or your products and services exist, have a little information about you, or your products and services, or even have other better options?
The global economy is radically becoming a sensitive and attention economy where human attention is a scarce commodity. You have a maximum of 5 seconds to draw human attention to your products and services,
So now you need a strategy.
Why is a digital strategy important for your business? The infographics below will help to explain better. For the sake of simplicity, I will use the digital information available for Nigeria (you can see the information for your target markets). The next thing you probably need to consider is who are your customers. are the end-users? or other companies. Then, you need to map out where they are and how to locate them.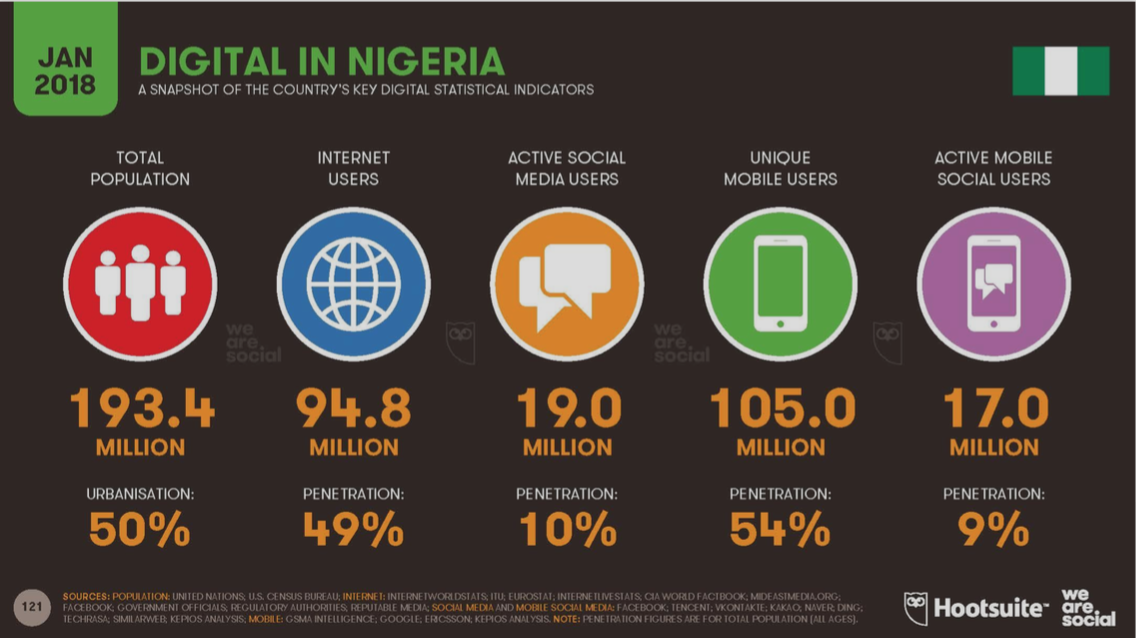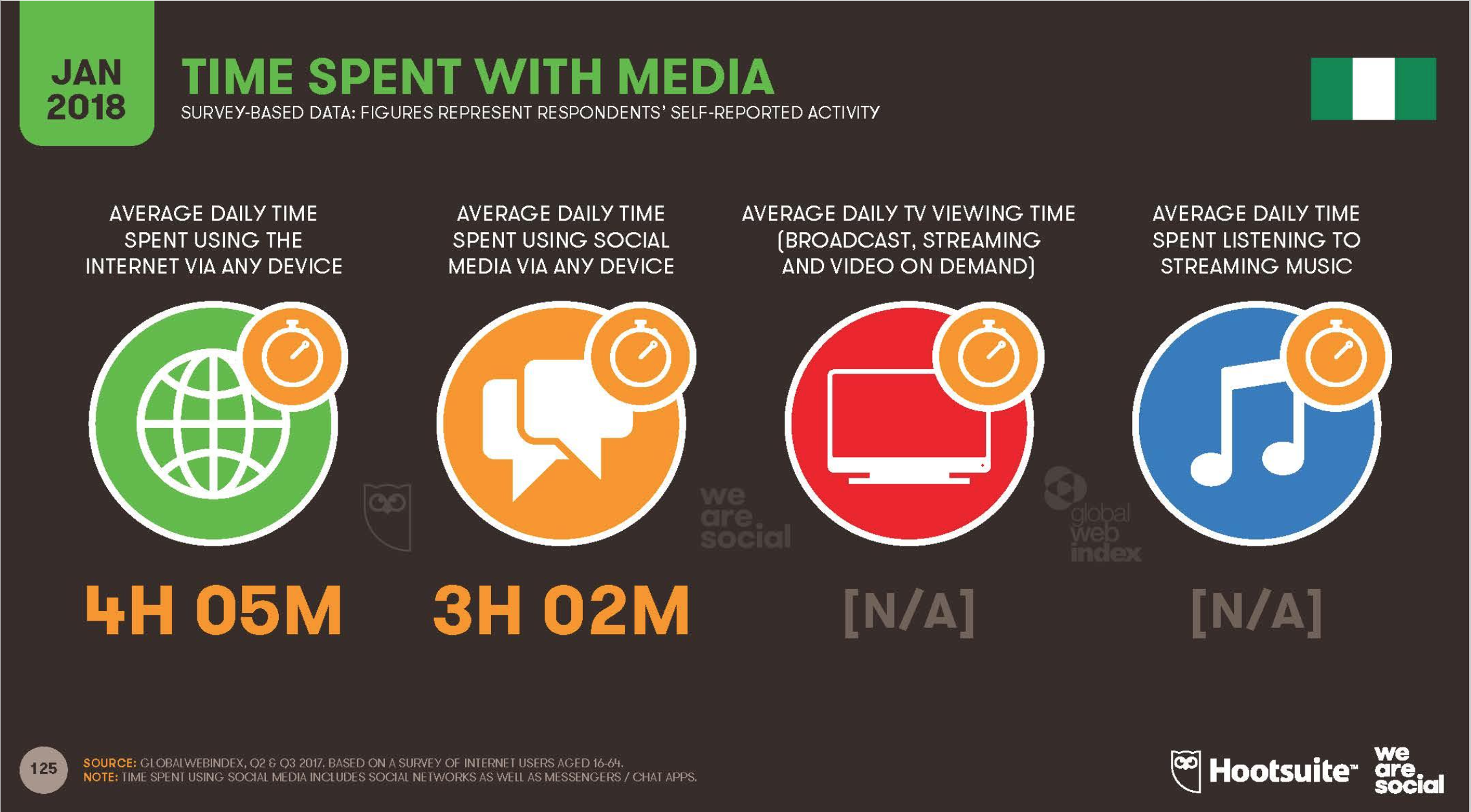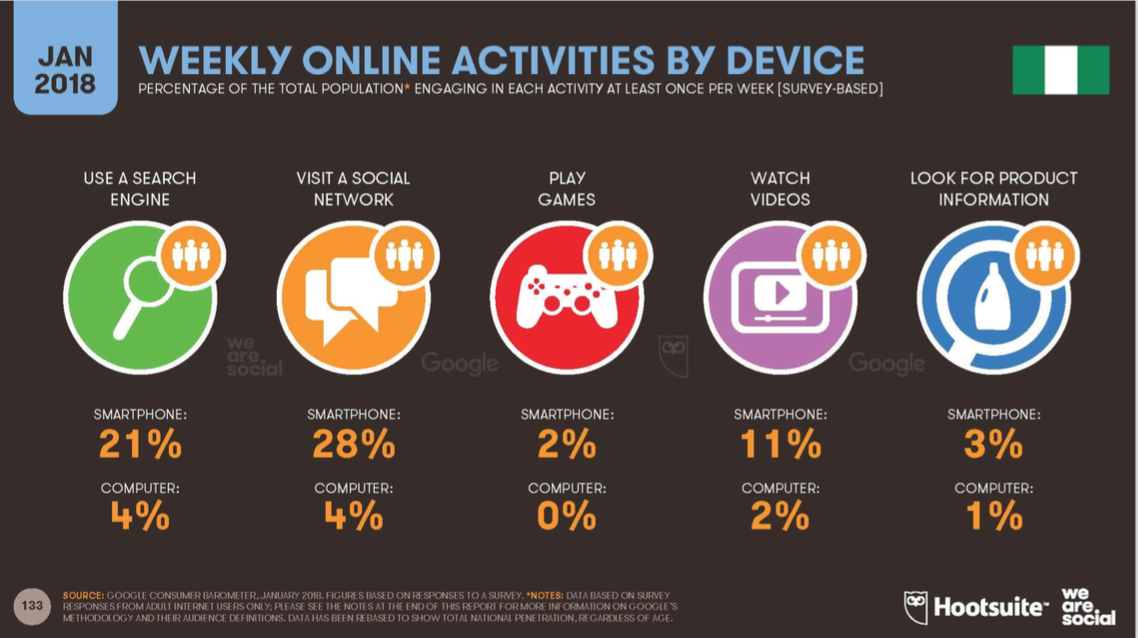 What is a digital strategy? Digital Strategy is a plan to accomplish something with the help of digital tools.
A Plan requires who, what, when, where and how
An objective has to measurable and actionable
What are the benefits of using digital tools?
A digital strategy is the who, what, when and where of listening and responding to consumers, bridging brand experience, iterating offers, collecting and activating consumer relationship in order to accomplish an actionable and measurable objective
A digital strategist develops and oversees a digital strategy that inspires digital creativity.
How do you create a digital strategy?
There are about  6 million active Nigerians on Twitter; 20 million active users on facebook ; 6 million; 7 million on YouTube; 6 million Nigerians on Instagram. The social media presents an important opportunity for companies to interact directly and engage their potential customers. In addition, companies are able to create awareness for their brands resulting in more sales and revenues.
Mobile has become the primary screen for most people, young and old.
Insights: 80 percent of the people conduct their online engagement on mobile.
Actionable step: Focus more on a mobile-centric strategy.
Tactics
How do we implement our strategy?
Which Communication Tools are we going to use?
How are we going to use them?
What message(s) do we wish to communicate?
Are we consistent across platforms
Do we have the necessary resources/budgets?
Website/Blogs
Make sure your platform/website/blogs are mobile friendly and consume fewer data. In addition, make sure the backend of your platform/website/blogs has algorithms for tracking and measuring who are the people visiting your platform/website/blogs and their location
Mobile-first approach
Make information easy to find
Quality content, quality image
Include Video as content
Make it easy to be reached
Ecommerce
Social Media
Provides room for engagement with customers
Build on your personal contacts and leverage them to increase visibility and reach.
Promote content to reach a wider audience
Email Marketing
You can generate emails for marketing by having a pop-up message for sig-ups each time there is a visit to your platform/website/blog.
Ensure you get permission (opt-in)
Keep a database of your customers' information
Send promotions to encourage repeat business
Search
Can your customers find you?
Google, Yahoo, MSN or Bing
Google Map
Search (Google MAPS)
Provides direction to your business location
Improves your SEO
Helps customers find, share, comment and recommend your business
Video
Make a minute to 3 minutes video that:
Educate your customers
Put a face to your business
Keep it short and precise
Live streaming
Online Advertising
It is important to narrow down your sponsor ads to address specific details, know the audience you are introducing your products to. Specific details such as demographics, location, interests, beliefs among others.
Google Display Network
Facebook Ads
Instagram Ads
Twitter Ads
Native Ads
Programmatic
Mobile Marketing
SMS
MMS
USSD
Voice Ads
Proximity Ads
Mobile Messaging
Digital PR
In the modern era, digital PR refers to building an online presence using online channels to do so.
Content Marketing
Reputation Management
Crisis Management
Influencer Management
Action
Who, What and When?
Who is going to do what?
When are they going to do it?
What is the resource allocation for the action?
What are the key performance measurements?
How is performance going to be recorded?
Control
How do we monitor progress?
Do action performance measurements relate to objectives?
Responsibility for measurement?
Frequency of measurement?
Resources for measurement?
Review of measurements?
Actions on variance?
In conclusion
Create a business page on all social media; Instagram; facebook; twitter; YouTube channel. In addition, you can create a platform or website.
Create Content: you must develop content that is worth sharing. Content that is consumer-inspired, data have driven and conversation led. Make sure you use a good camera, or good smartphones to take quality pictures, good videos.
Create product feedback: have a channel for feedback, listen and innovate based on customer's feedback.
Guarantee; prospective customers carries a burden on their shoulders when they want to purchase a product, you should be able to share this burden with them or take possession of the burden. How do you go about this? Offer them a 7-day or 21 days return guarantee.
Sponsor ads: Use facebook advertising, cost less 500 nairas daily depending on how many people and audiences that you want to reach.
Source: Lagos Digital Academy
Adetunji Bolorunduro has expertise in Business Strategy, Business Development and Chinese Investments in Africa. He writes regularly for Richtopia, Africa Business Chamber of Commerce among others.
In addition, he is a co-founder of China Link Education (www.china-link-edu.com) and AfricaCv.com