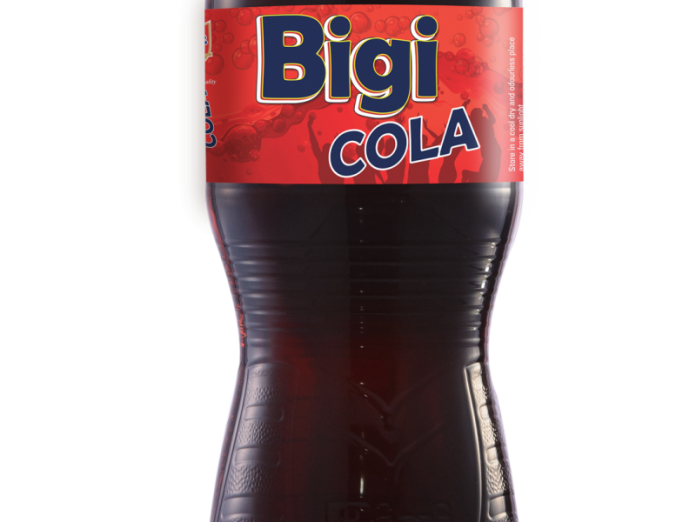 In Nigeria today, a new entrant is challenging the big guys. Yes, you read it well. Nigerian owned brand called Bigi Cola is taking on one of the most valuable brands in the world, Coca-Cola. According to Forbes, Coca-Cola occupies the 6th position in the list for the most valuable brands in 2019 at 59.2 billion U.S dollar.
The big guys in the carbonated soft drinks (hence, CSD) or soda as popularly known are SBC Plc, and LaCasera, manufactured by La Casera Company Limited; Pepsi, SevenUp, and Mirinda produced by SevenUp Bottling Company; Coca Cola, Fanta, Sprite manufactured by Coca Cola Nigeria Limited, CCNL.
Coca-Cola currently holds about 50 percent of the CDS market share; Pepsi Cola holds 40 percent while the remaining 10 percent is up to grab among the other manufacturers.
Who is this kid on the block challenging the big guys?
Bigi Cola is being manufactured by Rite Foods Limited, entered the market to challenge the position of the leaders. Rite Foods Limited also manufactures the popular Rite sausage roll.
How is this possible?
Consumers are so unforgiving and owe no one any loyalty especially in the CSD industry (a subsector of the Fast Moving Consumer Goods). The consumers will follow any brand that can offer them a free edition of its products or helps keep more money in their pockets.
Bigi Cola has been using pricing-strategy to lure some consumers to its products. Here is a breakdown of its unit price per 50cl bottle compared to that of Coca-cola;
The retail price of a 50cl bottle of Bigi-Cola, Big Cola and Pepsi is N100 (less than 50 cents), Coca-Cola sells for N150. While A carton price of polyethylene terephthalate (Hence, PET) bottle (50cl) of Coca Cola for N1,150, Bigi-Cola is N950. With N150, one can have a bottle of Bigi Cola and one pack of its Sausage roll compare to a bottle of Coca-Cola with the same amount.
N50 is a big difference in a country where about 80 percent of its 200 population are in the bottom income pyramid.
In addition, this kid called Bigi Cola is also in various flavors such as Orange, Cola, Apple, and Lemon-Lime. In case you are wondering about the product quality, there is not so much difference and consumers are now finding it refreshing.
It is also important to state here that the manufacturer of Bigi Cola took its time to introduce the product into the market, MEANING the company did market research and competitors analysis. Some people noted that Bigi cola was advertised on the packaging of rite sausage rolls for almost a year before its formal launching.
Cola-Cola, the big boy has reacted in an expected fashion by reintroducing one of its products, A 35 CL PET known as "solo" for Fanta, Sprite, and Coke at N100. In addition, it introduces price reduction and aggressive marketing for its other similar product called Limca.
The challenges currently being faced by the manufacturer of Bigi Cola is an expansion decision due to two reasons; 1. To meet the growing products demand and 2. To expand to other geographical regions as the visibility of its products is currently limited to the southwestern states of Nigeria.
The implications of these are that there will be a need for more investments for the expansion. Another is that Bigi needs to tread carefully in making expansion decisions, Nigeria's market environment is a very delicate and a wrong expansion decision may need to catastrophe. Remember, the Fast Moving Consumer Goods is an unforgiving one. Sometimes, it is safe to operate and win in a few states in the country, than to aim to conquer the whole 36 states in Nigeria.
Altogether
This is encouraging for new entrants in other industries that it is possible to challenge the big and established guys successful. You do not need to have the biggest marketing budget or war chest. Perhaps, all you need is a small strategy team, hard-working, innovation (pricing or product) among others.
I expect Coca-Cola to buy over the CDS brands of Rite Foods Limited, the manufacturer of Bigi Cola in the nearest future. If this happens, it is a win-win situation for both companies. While coca-cola will go on further to cement its place in the industry as the bigger boy, the manufacturer of Bigi Cola will smile to the banks.
Note: N = Naira; Nigerian currency; 1 U.S dollar – 306 naira @bank rate.
Adetunji Bolorunduro has expertise in Business Strategy, Business Development and Chinese Investments in Africa. He writes regularly for Richtopia, Africa Business Chamber of Commerce among others.
In addition, he is a co-founder of China Link Education (www.china-link-edu.com) and AfricaCv.com